by Rachel Giambanco
Last week, Cremarc Director Gary Coville and Client Marketing Manager Rachel Giambanco took part in The Fan Dance – the world's oldest and most famous Special Forces Selection test – a 24km race over Pen-Y-Fan in Wales. This year they were raising money for Alzheimer's Research UK – find out more about how we are raising money for good causes here. #ChallengeMyTeam
It's now been a week since I completed my second "Fan Dance" and I have been reflecting on the event and how everything seemed to line up to be one of my proudest achievements.
The Challenge
When Gary and I decided to take on this challenge for the first time last year, it was because Gary's friend Paul was diagnosed with Cancer and although we knew we couldn't help him directly, we wanted to do something. With Paul's backing, and the kindness of others, we raised £3,175 for Cancer Research UK to do their vital work.
This year Gary and I both found out that we each have close family members suffering with different forms of Dementia. Again, the feeling of helplessness turned into determination to try to raise as much money as possible for a charity that is looking for ways to combat it. We decided to take on The Fan Dance again, this time in aid of Alzheimer's Research UK. So far, we have raised over £1,000.
The Fan Dance is part of the SAS (British Special Forces) Test Selection. It involves a 24km race over Pen-Y-Fan mountain and back, in boots and carrying a full military backpack (Bergen). I was carrying 25lbs plus 5 litres of water making the total weight 35lb. It involves Tabbing (Tactical Advance into Battle) – which means you march up the hills and run down the hills and on the flat. The ultimate goal is to complete the race within 4 hours which is the SAS qualifying time, however, this is a very tall order for civilians.
Training
As we had done the event before, we knew the training that we needed to do and what we really needed to focus on. Last year I really struggled on the ascents, especially the first which is basically two miles of steadily going up until you reach the summit of Pen Y Fan mountain. During last years' event, I had to stop and give my legs a shake off constantly at this point of the race. This slowed me down considerably and allowed many people to pass me, which was demoralising. I decided to focus most of my training this year on getting my legs as comfortable as possible with ascents, which is a bit tricky without any mountains nearby. We started to go to the steepest hills on a regular basis and went up and down repeatedly until my legs felt like they were on fire. As this was usually followed by pizza, it did make the idea of training more enticing.
Each week training consisted of 2 x Be Military Fit sessions, 1 London Road Fitness personal training session, 1-2 weighted tabs carrying between 25-35lbs and one boxing session. Training began in earnest in January and we kicked things off with the Cancer Research UK 10k Winter Run, where I ran in boots carrying 25lbs. In May we pushed our training further by participating in the PARAS'10, a 10-mile endurance event organised by the Parachute Regiment where all participants (men and women) must carry 35lbs plus water and wear boots. The time to get to qualify was 1:50. It was brutally hot, and the Bergen felt like it weighed 100lbs, but I got there in the end with a time of 2:18. (Gary got 1:50!)
The Main Event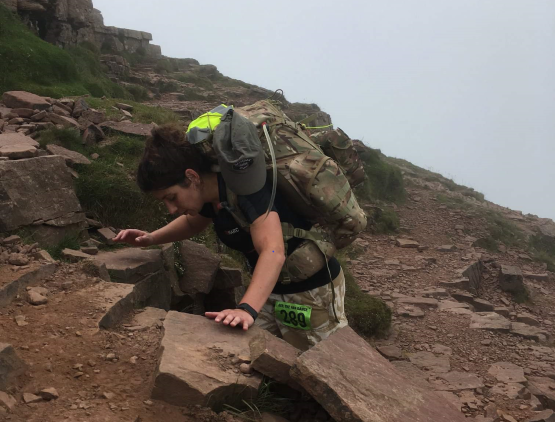 The final event was The Fan Dance on July 6th where there are no frills, no water stations, no people lining the route cheering you on, no music playing in your ears – there is just you, your physical and mental determination and the mountain. If you are hoping for a decent time, then training is key. By the time you start your first ascent, you know if you've done enough. The trick with the "up hills" is to lean a bit forward and keep the weight higher up on your shoulders. I kept a steady pace the whole way up the first ascent, which I physically couldn't do last year. The entire time I was mentally counting the steps up to 100, then back down to 0, over and over and over again; I have no idea how many times I did this, but when I reached the summit of Pen Y Fan for the first time I was so proud that I barely felt any pain (Ok, that's an overstatement…).
The next few kilometres were downhill, but not a gentle, take your time downhill: this was a jagged rock, twist your ankles, nearly fall over a dozen times downhill. The first few "steps" are rocks over a metre high. In order to get down, I had to sit on the edge, trying not to let the 35lbs on my back make me tip forward, then dangle my legs down and gently push myself off to fall the last few feet down. The trick on the downhill is to lean slightly back, which helps you keep your balance…and if you're going to fall, you land on your backside instead of your face. From here it was a mad (crazy mad) dash down the steep uneven rocks. Last year I was too scared to even attempt this, but as I saw two other women run past me, I knew I had to try. So, I went, silently praying I didn't slip and fall… which one of the women did do, though luckily, she fell on her bottom. It did take her a while to get back up though, a combination of how hard she fell and the weight on her back weighing her down. After being waved off when I asked if she needed a hand, I was able to pass her… and stayed ahead of her the whole rest of the race.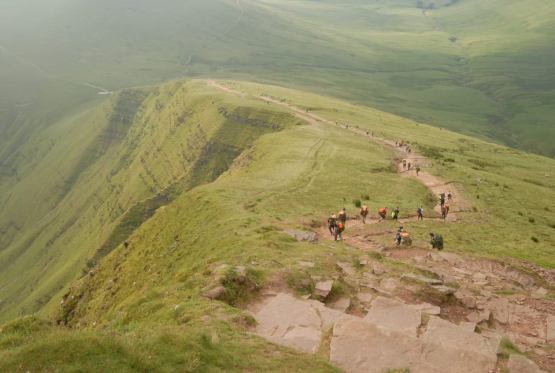 At the beginning of the "Roman Road" I caught up with the other lady who passed me down Jacob's Ladder. I ran the entire length of the road, which I wasn't able to do last year and after getting a unexpected and very painful cramp in my right calf, I still managed to get to the half-way point at 2:12, which was 28 minutes ahead of where I was last year. I quickly turned around and headed back – all uphill from here. As I was making my way through the forest and back to the Roman Road an older gentleman on his way towards me told me that I was doing great and in the top ten women. I couldn't believe it… but as he was near the half-way point, he must have been counting the women who passed him. I thanked him and my determination skyrocketed. It was a long trek back up the Roman Road which you can't really run on the way back as the incline is just a bit too steep. I trudged on and when a woman passed me, I made it my mission to get back ahead of her – and I did!
As I approached the bottom of Jacob's Ladder, I couldn't see the top for the mist. I trudged on and began my silent counting again. I confidently passed people with this approach and was delighted when I looked at my fitbit and saw my time was way better than I thought possible… and then it happened, my second cramp in the same right calf. I involuntarily screamed and lost my balance. Luckily there was a gentleman behind me who steadied me and probably saved me from a nasty tumble. During the time it took me to stretch it a bit, the lady who I was playing "cat and mouse" with for roughly half the race passed me again! I was furious with myself. I thanked the man and began hobbling back up Jacob's Ladder keeping ahead of another woman coming towards me. I started taking very shallow steps as I found if I tried to lengthen my stride I got "warning shots" in my calf. I was feeling a bit discouraged but was determined to pass her again. I somehow caught up with her as we got our numbers ticked off by the DS at the top of Pen Y Fan.
I then started to slowly jog while she chose to walk. I kept it up as others were steadily walking down the steep path heading back down to the start. I knew I had to keep it up as much as possible if I was to keep ahead of her. The last 4k I was truly focused. I carefully negotiated the uneven ground when running was not an option and I jogged when the ground was a bit more even. I had approximately 2k to go when a tourist couple were walking towards me and said "Great job ladies. Keep it up!" Ladies?!?! That meant the other woman was literally right behind me! Without turning around I began to run as fast as I could, the 35lbs on my back causing my shoulders and back to ache even more. I don't know what came over me, but I suddenly had so much energy and I knew that if I could keep up the pace, she wouldn't pass me again and I would be in the top 10 for sure. I ran down, then marched the last uphill as fast as I could and finally ran and ran and ran the remaining downhill, which was incredibly uneven.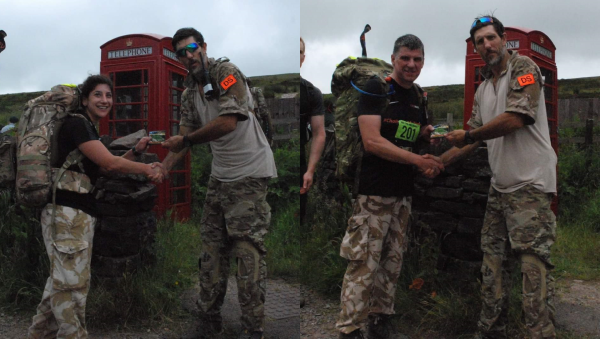 The red phone box (the finish) was like a lighthouse beacon to a troubled ship. I tripped and kept on running. I didn't look behind me as I was sure she would be right there. I didn't see the crowd I was expecting to see; last year they lined the last 500 meters and this year I only saw a handful of people standing near the gate. Then I heard my name being shouted by Gary (who finished in an absolutely amazing 4:08!) and I ran the last few hundred meters and through the gate and gave my number for the last time. 4 hours and 41 minutes! I could not believe it. I beat my time by 1 hour and 2 minutes! I came in 8th out of 21 women carrying weight and 108th out of 243 load-bearing men and women! Oh, and the lady behind me? She finished exactly one minute after me. Result!