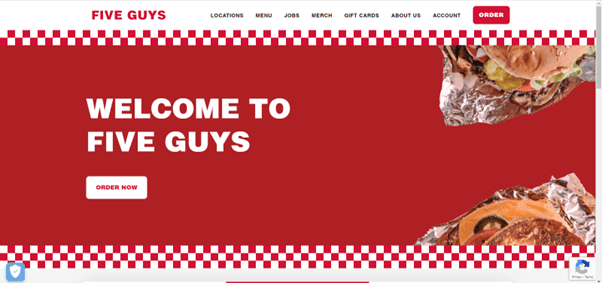 Not too long ago, I listened to Five Guys CEO, John Eckbert, on Steven Bartlett's fantastic Diary of a CEO podcast. John continued to make the very bold claim that Five Guys don't do any marketing.
12 months ago, I wrote a blog that picked apart Tesla's marketing mix following a similarly outlandish claim from their CEO Elon Musk. I thought it was about time to have another crack at these supposed marketing-less businesses.
Website
This seems an obvious one but clearly not to Mr Eckbert. Five Guys don't only have a website, but they have clearly optimised it well. With a load speed of 900ms (approx), their homepage both ranks highly for relevant terms and any branded search queries are resolved in the top couple of search results.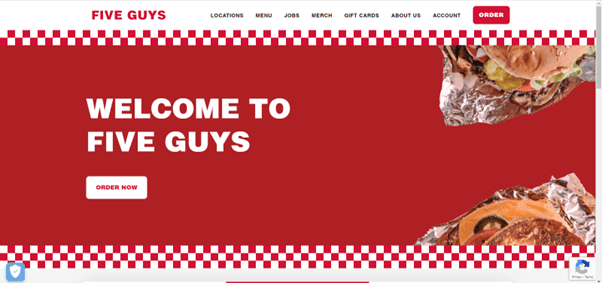 Source: https://fiveguys.co.uk/)
Additionally, if you search specifically for the brand, you're greeted with a rich Google My Business (GMB) snippet that includes links to their social profiles, a link to their website, some business information like revenue and number of locations, and your three nearest Five Guys locations.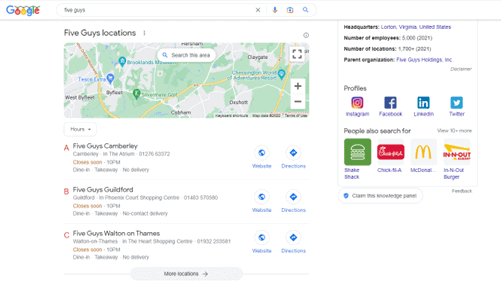 If you aren't aware of GMB, it allows business owners to manage their online presence directly on the Google SERP. A must for any business to make an impact with an additional touchpoint, showcase relevant information, and enhance validity with a real location.
Socials
Five Guys has an organic presence on Facebook, Instagram, LinkedIn and Twitter. They even post on TikTok these days!
With a combined total of roughly 1,875,000 followers, I think you could call this a successful set of customer engagement channels…
Spreading the word
Five Guys have an app available on both iOS and the Google Play store. The app allows customers to order in advance to click and collect. With a presence on Just Eat, Deliveroo and UberEats, the clever people behind this placement are very aware of the reach opportunities available.
Simply by being on these types of fast-food delivery apps, they are able to maintain a MSoV over and alongside competitors.
According to a study undertaken by All Response Media, 36% of people now get fast food delivered occasionally, which is up by 28% from two years ago.
Additionally, most orders on fast food delivery apps will be made by a group or family rather than an individual. Essentially, if Five Guys are available and one person wants it, they might acquire a couple of new advocates in the same evening.
The fast-food delivery app is rapidly growing, and so by being on the app that is being constantly promoted with an ever-growing paid media spend, that Five Guys aren't paying for, is a no brainer!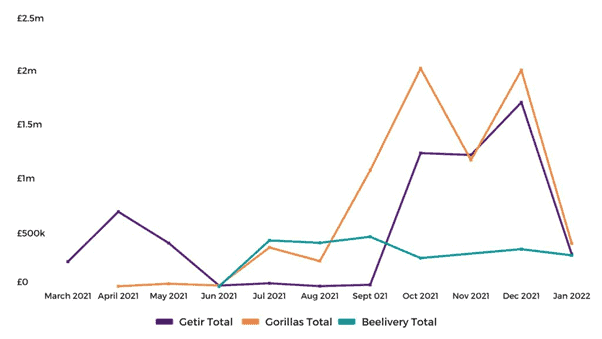 Source: The Nielson Company 2022 
Beyond all of this, Five Guys are on the merch train flogging branded T-shirts, socks, hats and jackets! What a great way of pushing your advocates to promote you, all at the expense of…. additional profit!? Great marketing ploy here. I personally fell into this trap recently when I bought a Nando's T-shirt…
Although, I must say, the Five Guys merchandise isn't bad at all! Check it out here: https://merch.fiveguys.co.uk/
Podcasting
Okay, we can't attack them for a bit of PR, but John Eckbert's appearance on Diary of a CEO has both shown Five Guys in an excellent light – he's a great speaker and got me talking about (and you reading about it)! Win / win for John.
The podcast was 1 hour and 45 minutes long, and John must've squeezed the line "we just want to continue making the world's best burgers" into the conversation at least 10 times. With an obscenely large listenership, John fried up some great PR with that single appearance.
Return visitors
Some people think that marketing stops when a prospect or a lead becomes a customer. 100% incorrect! Your marketing methods and messaging will most likely change, but there shouldn't be any slowing down. You need to keep your customers on board. I won't regurgitate the classic stat about how much easier and cheaper it is to retain an existing customer than acquire and onboard a new one, but it is absolutely true.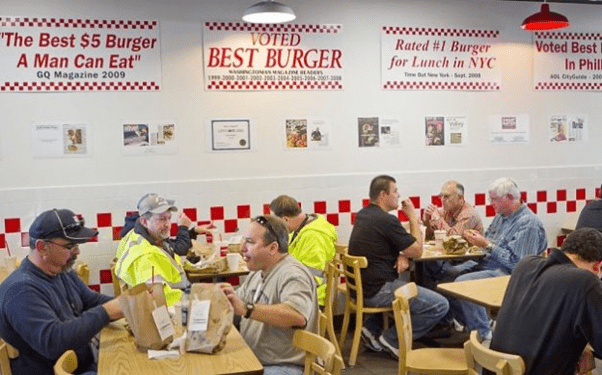 Five Guys grill you with top class reviews, media mentions and testimonials whilst you are in their restaurants. If that doesn't say "We're really great so you should come back again" I don't know what does!
Online advertising
Five Guys have run some LinkedIn ads before, but they were only 'We're Hiring' adverts so I won't call them out for that. You can't view Facebook ads that business pages are running but you can see if they are running ads across the Meta Advertising Network which includes Facebook, Instagram, Messenger and more. I can indeed reveal that Five Guys are running Facebook ads!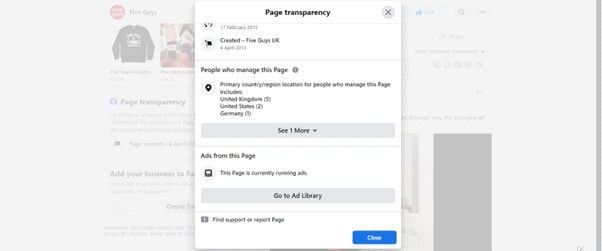 Partnerships
As a customer of Lloyds Bank, I make use of the 'Everyday Offers' available in the online banking app. Lloyds Everyday Offers are a way of earning cashback with selected retailers on debit or credit card purchases. Five Guys is often one of the selected retailers listed on there. Quite regularly, Lloyds banking customers can pick up a 15% discount at Five Guys.
Lloyds' sister bank Halifax runs a similar scheme to Everyday Offers, which has the same retailers signed up to it. Therefore, we know that Five Guys have a partnership to appear on the Offers pages of both Lloyds and Halifax. The Lloyds Banking Group, that includes both Lloyds and Halifax serves around 27 million customers – that's not a bad reach for your brand, wouldn't you say?
I won't continue because I've touched on a variety of areas, but this rundown should give you a good idea that Mr Eckbert, although I like the man, was chatting a load of BS on Steven Bartlett's podcast – and I'm not talking about behavioural science!
In reality, bold claims like the ones John and Elon have made are usually expressed through naivety of what marketing spans, or to get some press attention. In these two cases, it was probably both.
Your marketing mix should be this multi-channeled and should indeed be creative in the way it reaches your prospective customers. Reach is good. Referral is good. Retention is good. I would say that Five Guys have got a great marketing mix. Now they just need to admit it.
Want to read more about digital advertising, read our blog post: How Tesla Can Get Away With Not Using Marketing