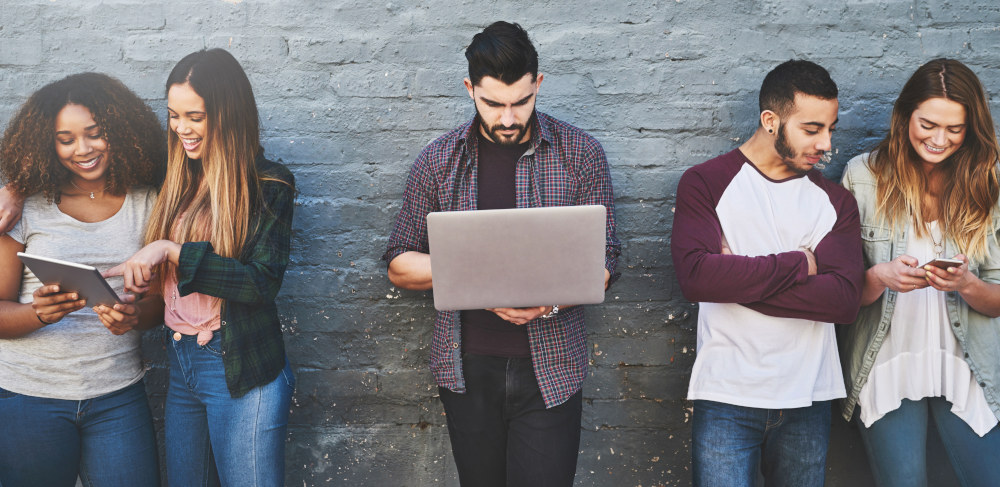 Personas can be a divisive topic; for those that believe in them, they exist to help pinpoint characteristics and motivations, highlighting pain points that marketing teams can resolve. However, for those on the other side of the argument, personas are a distraction and provide a trap for marketers to fall into assumptions. For example, think about a B2B decision maker – what do you envisage? How old are they? What do they look like?
Ten points to you if you guessed this but some of you might be surprised to learn that the latest research by the Harvard Business Review and Merit found that nearly 73% of all B2B decision-makers are millennials. Pretty staggering, right?
Millennials are the first generation of digital natives and account for nearly 14 million people in the UK, equalling 73% of the workforce. They have grown up with tech and are incredible tech-savvy – many of you reading this will also be millennials. Therefore, they expect marketing to follow that same trend.
It's a statistic that can't be ignored and one that you need to align your marketing behind, but have you? Or have you been following outdated perceptions of what today's B2B decision-making personas might be?
Let's start with expectations
Nearly three-quarters of your potential customer base are millennials, but what do they expect? Unfortunately, the short version is that their expectations are high! This is the generation that watched the rise – and fall – of social media: Beebo, Myspace, Facebook, Instagram. They experienced the drive to mobile technology and the 'mobile-first' internet with the likes of Motorola, Nokia, Blackberry, Samsung, Apple. Alongside this, they've been first-hand witnesses to whole industries expand from physical limits to untapped digital potential: think of the music industry, TV (anyone else remember when they launched Channel 5 and what a gamechanger that felt at the time?!) and, of course, retail, too. The key thing is that they have moved with the times, have excelled at engaging with these upcoming changes, and expectations keep rising.
Millennials also love content, according to Hubspot they spend on average, 4 hours a day consuming content. However, the most critical thing is that the content marketing is authentic, engaging and personalised to the reader – millennials are more than capable of cutting through the rubbish.
Don't create a website when marketing for millennials – create a digital experience
Millennials are the generation that have experienced the early websites (less said about those the better), all the way to present day. The problem for most organisations is what consumers are used to. Every day, your potential customers are looking through Amazon, scrolling through Instagram and browsing on Netflix. They expect the same experience when they come to your website; a personalised experienced. If you want to truly impress and engage with your potential customer, this is what you need to create.
The value exchange
The concept of the value-exchange is simple. Are you offering enough value to potential prospects for them to give their details to you? From my experience, the answer is simply no. This is the generation that does not want to give their details away for nothing. You have to know what is really valuable to this audience.
Engaging and valuable content
This is strongly aligned with the point above. We create content, but is it valuable? If we want to create leads, we need to offer something that solves pain points and therefore creates value. Creating content that is similar to competitors is just not going to cut it.
Start and end with creative
The importance of creative is often overlooked. A millennial is subject to 6,000 digital ads per day. If your creative is not memorable and cutting through the noise, you are going to miss out on leads – it's as simple as that. We all need to create not only a strong brand, but also put thought and creativity behind the ads that we create.
Reduce commitment and create a journey
Millennials don't want commitment in marketing. Anything that immediately, on the first interaction, drives a prospect to some form of commitment will likely lead to them never coming back. So, no lead gen page with a form asking for information on that first visit.
Instead, take them on a journey to understanding your brand, offering them free and valuable content along the way. Only then, when they know you and you have created enough value, ask them for their information.
Next steps
Firstly, if you aren't experiencing millennials as potential customers, it isn't that you are different, it's probably because you aren't appealing to them. That might be a bitter pill to swallow but you have to move to a position in which you are marketing for millennials.
Remember that this will take time. The priorities listed above are the place to begin analysing if your current marketing gives millennials what they need to interact with your brand and consumer research is a very good place to start and really helps to take opinions out of the conversation.
We're the B2B experts. Want to create marketing activity that excites your audience? Talk to us.
Want to read more about digital advertising, read our blog post on Account Based Marketing .