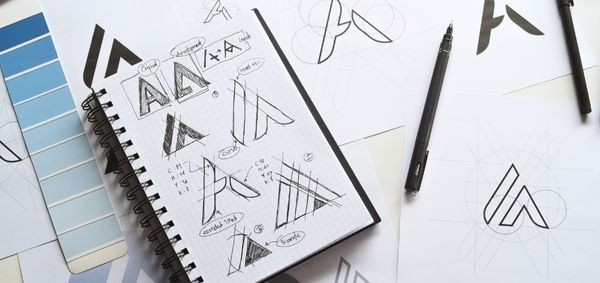 Over a century ago, cattle ranchers would use branding irons to indicate which animals were theirs. As the cattle were moved to slaughterhouses, they could easily determine where they were from because the cattle were branded.
The definition of the word 'brand' has obviously evolved since then, through the explosion of packaged goods and services in the 19th century until now.
No longer is a brand simply a 'pretty logo' you see when making a purchase, but it now represents so much more.
The reason for this is simple: we live in a world where the number of businesses is growing rapidly. Between January and March 2022, there were 205,171 new incorporations in the UK alone (Source). With that said, will a pretty logo be enough for your business to attract that new prospect?
Let's take Apple as an example. Now remove their logo and think about what you know about them. The most premium tech company? Fantastic customer support? At the height of new technology? All of these factors define the Apple brand.
So, what are some of the key defining factors of a strong brand?
The visual identity
Of course, the visual impact of someone seeing your brand identity will always come first – it's the shopfront to your business and the number one thing someone will see.
Now let's step it up a level to understand how a logo and visual identity can really help you resonate with your target market.
Fonts
With hundreds of thousands of fonts available at your fingertips, it can sometimes be difficult to know which to choose. The subconscious mind is a powerful thing and how you perceive fonts will determine how you are made to feel. Notice how you wouldn't see an eco-friendly company using large, bold fonts, but using more sans-serif and calligraphy style fonts. That's because a gentle font evokes more emotion.
Colours
Colour psychology is incredibly interesting (to a marketer at least), as the science behind these studies is proven to work. Did you ever realise that some of the largest fast-food companies have yellow and red used in their colour palette? That's simply because these colours tend to trigger your mind into thinking about food and feeling hunger. It wasn't just a coincidence. Ever wonder why UPS in America have brown as their primary colour? Well, that's because this is colour evokes the feeling of warmth and security – two things you'd want from a courier carrying your valuables.
Hidden meanings
Now I personally don't think this defines a strong or weak brand, but I find it interesting and very clever. Talking about the power of the subconscious – logos often have hidden meanings and you never even realised.
One of my personal favourites and one of the simplest I have seen is the Amazon logo.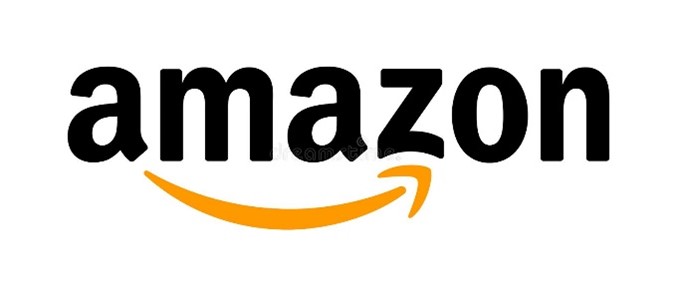 (Image: Amazon.com, Inc Logo)
When you look at this logo, the arrow at the bottom seems like a smiley face, but it's much more than that. The arrow is pointed from a to the z; representing the fact that Amazon offers products in all possible categories, And the smile used in the arrow depicts customer's satisfaction. Clever, right?
Language
Tone of voice and messaging are often overlooked when defining a brand, but I can't stress the importance of this point.
We're throwing lots of examples into this blog, and I have the perfect example for you. With that in mind, I'm just going to assume that every marketer idolises the 'Innocent Drinks' juice brand as much as I do!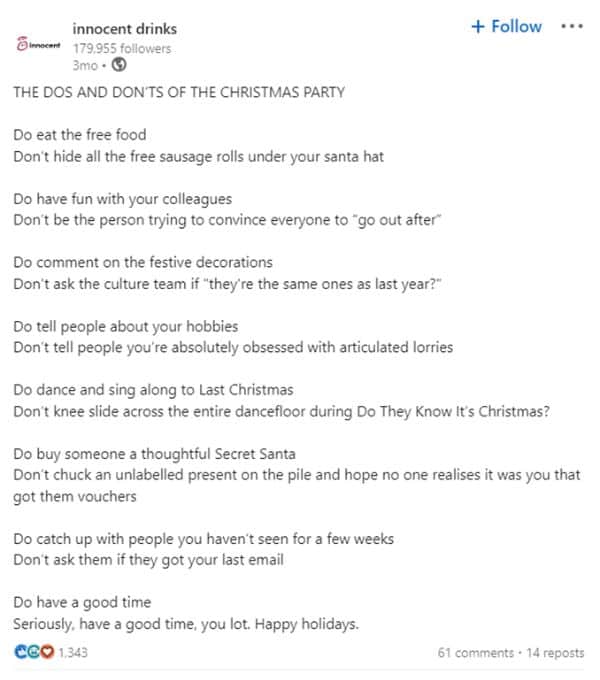 (Image: An innovative social post from Innocent Drinks, as seen on LinkedIn)
You'd never think a smoothie company that sells…well, just smoothies, could be so exciting, would you? Yet the language and tone of voice and content topics used is so captivating across multiple audiences.
The products and services
Let's not forget about what's at the heart of your business – the products and services you offer. The strongest of brands could remove their logo tomorrow, and you'd still know who they are. This is because down to the consistency of all the supporting factors that make up a strong brand i.e., the colour palette, the customer support, the language, tone of voice, and the specific USP's of the company.
The customer support
I was undecided whether to add this one into the mix, but figured it was best to and I'll explain my decision now.
Many moons ago – or should I say, not that long ago as I'm still relatively young (for now!), I worked for a small company that sold online products to end customers. My CEO at the time had this insistent demand that every message would have to be responded to, whether positive or negative. Not only that, every email and message on social networks had to be responded to with pleasantries and be personalised to each individual.
At the time I thought he was mad due to the sheer amount of time needed, but as time went on, I realised why he had such a loyal customer base. It was because the level of customer support and personalisation he provided meant his customers refused to go to any competitor.
This was an eye-opener, as despite the visual identity of the business being relatively weak (in my own opinion), it thankfully didn't matter due to his approach to customer support. It's things like customer support that require little additional attention, which can really help strengthen a brand to stand out from its competitors.
One of our most recent blogs explores this idea of creating personalised experiences in marketing, which I thoroughly recommend you read whenever you get a spare opportunity.
As a marketing agency, we tend to notice B2B tech companies that are flourishing in a crowded marketplace, and they are ones that focus on long-term relationships, as opposed to only the quick wins.
The people
This point may be last on the list, but it's arguably the most important. Let's remember that people buy from people, meaning the culture and values that are instilled within your staff, play out to your prospects and customers.
In the B2B tech space this can sometimes be difficult, as you tend to be solution-led and your prospects are focussed on you being able to deliver outcome-based solutions. However, it's more than possible to use your culture as a key brand identifier.
The key stages in delivering a strong brand in B2B
Summarising the key defining points to a strong brand; it's important to understand your objectives. Are you just wanting a pretty logo to be slapped across your website and to set as your profile picture on LinkedIn? Or are you wanting a tool that empowers your business, allowing you to reach your target audience and reel them in, while opening up the opportunity of fostering a strong and long-term relationship?
There is a significant amount of work that goes into a branding project that you may not even think about. Before understanding what elements of a visual identity will work for your business, you'd need to know what resonates with your audience.
Let's step it up a level to understand the different phases that occur in a full end-to-end branding project:
Step 1: Discover/Develop Your Brand Purpose
Step 2: Know Your Competitors
Step 3: Determine Your Primary and Secondary Target Audiences
Step 4: Build Out Your Brand Strategy
Step 5: Develop A Compelling Brand Narrative/Story
Step 6: Create a Brand Identity
Step 7: Go-live and Success Tracking
(There will be a part 2 of this blog in which we will take a deeper dive into these 7 steps and see what each of them delivers – watch this space!)
The benefits of a strong brand in B2B Marketing
A strong brand in B2B marketing is a tool that you can leverage in a powerful way. Here are 7 key benefits to creating a strong brand (Source):
Increases Brand Recognition
Improves Customer Loyalty to Your Brand
Positive Word of Mouth Marketing
Higher Advertising Effectiveness on Customers
Lower Price Sensitivity
More Applicants That Want to Work for Your Brand
Engaged Employees Who Are Proud to Work at Your Company
A B2B Branding Agency That Delivers
Your brand is the bedrock of your go-to-market: it defines how you are perceived by your customers, prospects, and potential employees.
Creating a strong brand that your audiences connect with is the key for marketing success in the B2B space. It should permeate across everything you do, building awareness and differentiated recognition.
We are experts in developing strong brands in B2B Marketing; helping you define, create and evolve your brand. Learn more about how Cremarc can help.