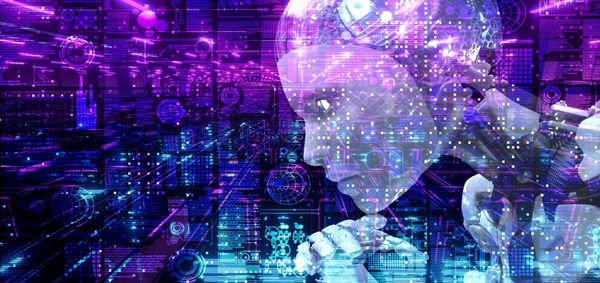 There is no doubt that artificial intelligence (AI) is shaping our future through the devices people use and the daily digital tasks that are conducted.
Data is everywhere and AI processes this information for the better or, in some cases, for the worse. Being harnessed frequently before, during and even after digital campaigning, it is a defining factor which can make or break any successful campaign, no matter how elaborately it has been planned.
What is AI?
AI is where specially built machines are used to process, analyse and problem-solve information that is shared with it; allowing for intelligent decision-making, almost mimicking the science behind human intelligence and how we make decisions.
Despite AI capabilities, John McCarthy from the Computer Science Department at Stanford University, states that "computer programs have plenty of speed and memory, but their abilities correspond to the intellectual mechanisms that program designers understand well enough to put into programs". (Source – Page 4)
Knowing this, it is important that if a marketing organisation is looking to gain business intelligence (BI) through AI, they must ensure their BI tool of choice is well-respected and built by design to interpret and understand marketing data.
How AI is being used in marketing
Organisations operating in the marketing industry often adopt common subsets of AI. Some of these include machine learning (ML) and natural language processing (NLP).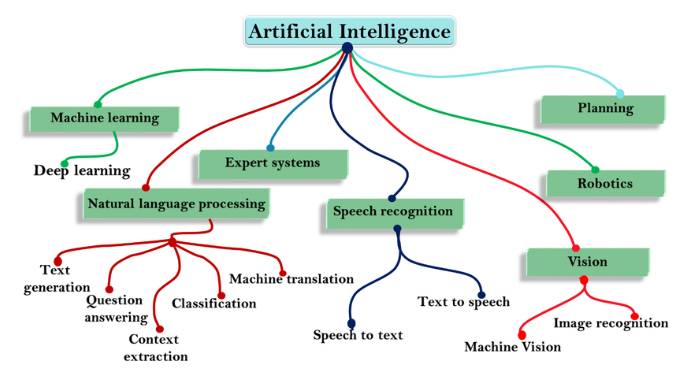 (Source – A diagram showcasing the subsets of artificial intelligence)
Marketing automation is one key example of ML that is used for campaigns, regardless of their scale. Adopting forms of marketing automation not only allows you to achieve optimised performance, it also helps you convert prospects sitting in the middle-of-the-funnel, when used in conjunction with the distribution of targeted content. For example, this could be in the form of an automated email sent after a certain touchpoint in your defined user journey has been hit.
Marketing campaigns are also heavily reliant on paid media to help drive results and it is important that budgets are used effectively to acquire new leads. When setting up a Google Ads campaign, marketers can use smart bidding to automatically adjust how their adverts display.
The more data Google's machine learning algorithms must analyse, the more consistent performance is, and it will cleverly study different variables such as the time-of-day adverts are being seen most, the types of devices which are frequently used, as well as users operating systems.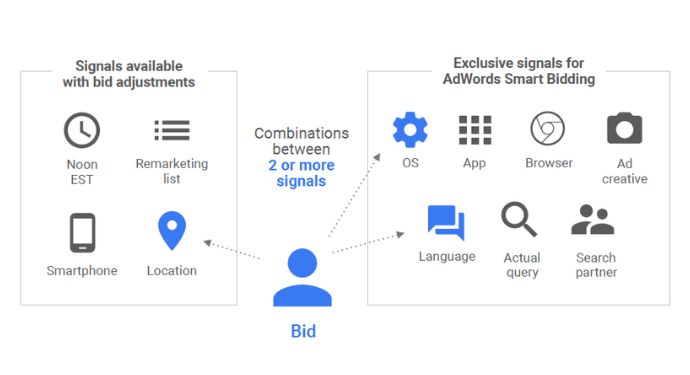 (Source: Diagram showcasing how Google uses machine learning for its Smart Bidding)
The more personalised and targeted adverts are, the more likely a campaign will see great results – it is evident that ML plays a huge role in cementing the best user experience when outbound campaigning. Recent statistics have also shown that over 80% of advertisers using Google Ads have already started using automated bidding to help optimise their campaign performance, allowing them to spend their time gained on more important tasks or to further refine their outbound content. (Source – Google Search automation strategies)
Even if paid ads are optimised for best user experience (UX), the webpages themselves must also be refined from a UX perspective. A great way of improving the UX is by adopting a chat bot to reply to any frequently asked questions, rather than making a user search the page for the content they desire.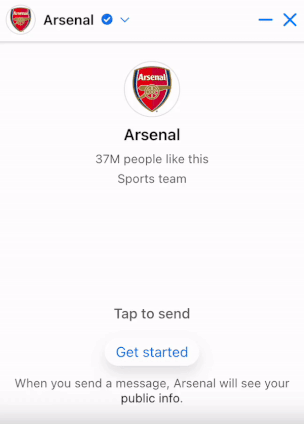 (Source: Arsenal FC chat bot powered by Meta/Facebook)
This feature uses a subset of AI known as natural language processing (NLP) – key words are interpreted and understood before an automated answer is triggered. This can help make your campaign feel more personalised, especially if the chat bot is built by design to represent an employee, or your company.
While AI is revolutionary in the way it pushes technology boundaries, it is important to know that one challenge for NLP is that it struggles to understand sentiment and customer feedback. This is because it can only read the words for how they are literally defined. For example, if your campaign is performing poorly, and your chat bot receives a sarcastic comment, your AI solution most likely won't be able to recognise the emotion suggested behind the text. Which leads on nicely to our next discussion point.
Chat bots shouldn't replace humans, but instead function as a different customer channel, as well as an easy way for users to contact you about your service/product tied to your campaign. On the contrary, according to a recent survey, if a campaign is more catered to a younger audience, 20% of Gen Z consumers supposedly prefer to start their customer service experience with a chatbot, compared to only 4% of boomers. Talk about a generational divide, but one to consider before running any future campaigns! (Source)
The future of AI in marketing
Whether you are a fan of AI or not, it is something which is here to stay. Whilst it can be depicted as a scary thing, it is a highly scalable tool that marketers must use if they want successful campaigns. Especially when considering the death of third-party cookie support.
Marketing companies will still have access to first-party data, but if this is to be a reliable source which is used for future campaigning, companies will have to start adopting the right technologies and data strategies which are predominantly powered and built around AI. How AI will affect future marketing campaigns will no doubt correlate to how effectively organisations can use AI to fill the gaps in their data.
If you would like to learn more about how the marketing sector will be affected by the loss of third-party cookies, please read our recent blog.
We would also love to help you leverage AI for your outbound campaigning – feel free to get in touch with us.