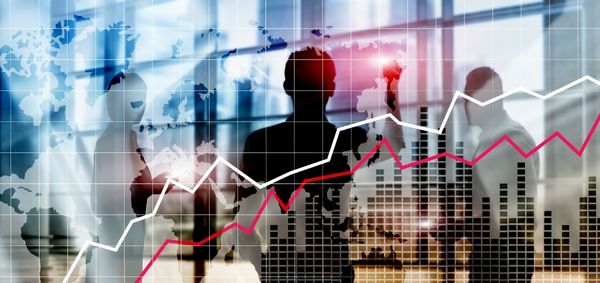 At the time of writing (end of January 2023) there is plenty of discussion amongst financial experts about whether the United Kingdom is in, or is about to go into, a recession.
Regardless of what is the true state of play, the combination of recovering from the Pandemic, tax rises, increased inflation and high energy bills is forcing many – be it individuals, families and/or businesses – to closely review their expenditure and budgets. History suggests that this tends to be bad news for marketing.
If a recession dictates that customers are buying less than usual, then the idea of reducing your marketing spend is seemingly valid. However, the counter argument is polar opposite, as evidence shows that there are many benefits to be had by marketing in a recession, which has the potential to help significantly grow your brand. Let's look at the reasons why and the steps you could consider addressing.
Why is recession Marketing so important?
Ask yourself this question – would you be happy to reduce your exposure and visibility that could result in your target audience turning to the competition? The long-term impact to your brand will always be negative whenever the decision is taken to reduce your marketing activity, no matter how challenging the economic climate is.
Indeed, a recession can offer an opportunity to get ahead of your rivals and turn the over-arching negative into a positive, providing expenditure can stay the same or, indeed, be increased. For example, primary advertising slots and marketing space are likely to be vast and affordable as many companies will probably implement budget cuts, presenting you with the opportunity to get more for your money.
In his 2020 article Why You Need To Market More In A Recession, Peter Boolkah offered the following summary: "During a recession, the economy doesn't grind to a halt. People are still spending money; you just need to give them good reasons to spend it with you. Take advantage of this opportunity to spend on marketing that boosts your visibility, builds on past successes, and helps you grow with your customers as the economy rebounds."
It's not like we haven't been here before…
My professional career was in full flow by the time the recession in 2008 struck the nation, while the impact of the Pandemic is still being felt by many. Therefore, there are learnings to be had from very recent experiences. Indeed, Peter Field discusses four of the key lessons in his blog: Advertising in Recession – Long, Short or Dark. They are:
·       Lesson One: Focus on the Long Term
·       Lesson Two: Defend Your Share of Voice
·       Lesson Three: Seize Your Market Opportunity
·       Lesson Four: Demonstrate Humanity and Warmth
Arguably, Peter's most important piece of advice is the very start of the article – Keep Calm and Carry On!
Where you should focus your efforts
There is unlikely to be a "one size fits all" approach when it comes to a marketing strategy – even more so during a recession. However, consider the following three areas to see if you can operate more efficiently and effectively, to get the results you're striving for.
Measure your success – the business case for marketing will be truly under the microscope at the moment, so it's necessary to have clarity around ROI. Don't just know the number of leads you've generated, understand the quality of these from a sales perspective. Understand where your prospects are located in the marketing funnel and what activity is helping them progress. Have clarity on what your GA4 dashboard is telling you about where there is need for improvements / optimisation.
It's time to get creative – it's easier said than done to "push the boundaries" so that you stand out from the crowd or competition with your marketing efforts. If you perceive that your current approach is falling on deaf ears or being overlooked, then what better time than during a recession for getting creative? It's time to take a risk and develop an identity – be it visual or tone of voice – that gets you noticed.
Go further with content – from blog articles to newsletters, through to webinars and video clips, now is the time to revisit your content repository and identify whether it's been fully utilised or, more likely, open for recycling into alternative formats. Optimising existing content – be it for SEO, infographics or specific campaigns – can be a lot less challenging than starting from a blank sheet of paper.
Sticking with content for a moment and consumption behaviour is seemingly changing as highlighted by the graph below taken from Forrester's report in 2021; all of which adds to the argument that is now is the time to explore new ideas for getting your message across.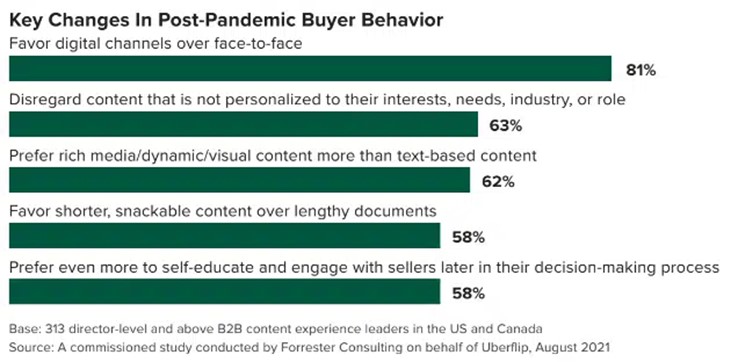 (Source: Analyst Report: Accelerate Your Buyer's Journey By Dynamically Curating Relevant Content, Forrester, 2021)
In summary, I doubt any business would willingly wish to see a downturn in sales by breaking a key connection to both existing customers and prospects alike, so don't let a recession change this approach.
Should you need any assistance about where to focus your Marketing efforts and activity throughout 2023, then do not hesitate to contact us here at Cremarc so we can discuss how to reach your target audience, capture their attention and cultivate their interest during these challenging times.