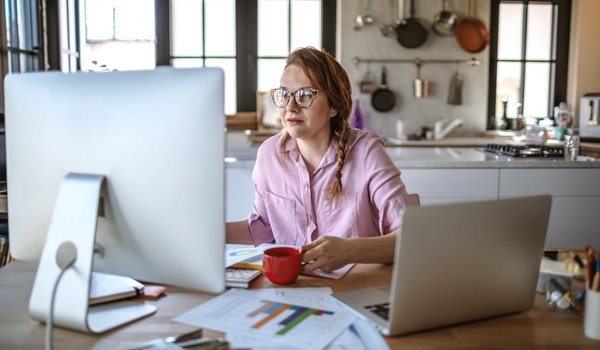 Lockdown Marketing: Five Areas We Should Be Focused On
Back in April and May last year I wrote a series of blogs addressing the challenge of marketing during the turmoil of the pandemic. Little did I know then that almost 9 months on, Covid-19 would still be dominating our lives and that we would be in the middle of lockdown 3.0.  In this article I take a deeper look at lockdown marketing techniques.
We have all had to adapt over the past year; my wife has certainly gotten a lot better at cutting my hair. I am getting better at home schooling (although I still have a long way to go), and we have all learned that we need to just get on with things and adapt.
We Can't Tread Water Forever
Many companies have simply been treading water for the past nine months. It is easy to think that things are going to get back to normal soon, however, the reality is that they are not; it's going to take a little bit longer and then who knows what 'normal' will be like in the future.
My blogs last year talked about using lockdown and restrictions as a time to regroup, get the house in order and be ready to drive forward. This is still very relevant, but rather than thinking about it as spring cleaning, you should be thinking of it as an opportunity to reboot and put in place marketing 2.0 for your organisation. You need to be focused on things that will have an impact now and will move you forward into a world of marketing that is likely to be very different.
Here are five areas I think are vital for marketers to be focused on now:
SEO to Make Sure You're Found
People are still buying solutions and services; it is just how they buy these things that has changed. Search is more important now than ever before, with virtually every buying cycle starting with a Google search. Someone once told me that more people climb Everest than go to page 3 of a Google search; I am not sure this is a proven fact, but there is a lot of truth in it.
When was the last time you did an Incognito search for what your company does, and when you do, where do you land on the search engine result pages? SEO is not something you can do once and forget; it needs to be a constant focus. If you want 20% of your enquiries to come from being found on Google, should you not be spending 20% of your marketing effort in this area?
SEO is more of a science than an art; there are many factors that push your website up the rankings and many of these are unrelated to your keywords. Is your site secure, is it crawlable, is it mobile friendly, what are the load speed of pages, does it have broken links? These are all factors that are critical and now is a great time to give this some attention.
We are piloting a free SEO Helicopter Audit which is a great way to get a snapshot of what the search engines think of your website. If this is something you would like to try, give me a shout.
Step Up Your Content
During Lockdown 1.0 we saw a massive increase in the engagement with content; in some instances we saw a two-fold increase in the content being consumed by potential buyers. Whereas this trend has continued, we are seeing people being more selective with the content they engage with.
You should think of content like watching TV; there are lots and lots of programmes, however, there are only a few programmes that you look forward to and don't want to miss. Churning out the same old stuff does not cut it. People don't want to read War & Peace; they want succinct information that is easy to consume and delivers real value. They don't want to read how great you are, they want to learn how they can become great.
Taking time now to be critical about your content, understanding what is OK and what is brilliant will set you on a path of far better future engagement from your target audience. Using quiet time to create brilliant content is never a waste of time.
Don't Forget Customers
We often take customer for granted – we speak to them all of the time, we don't need to market to them. Well, the truth is that the personal level relationship we have developed with customers when we get to meet them face to face is dwindling. There is only so much you can do over Zoom, so now is the time we should be over communicating with customers to bridge the Covid-gap.
All of the 'we are here for you' type communications we focused on back in April 2020 is still important today; we are back in lockdown, customers are still facing challenges and they need to know you are there for them. Do you have a regular communication programme to your customers? Is this seen as clutter or valuable?
Social Is the New Networking
There is nothing like walking around a trade show or conference and bumping into old customers or colleagues and renewing contact, but with such live events on hold and likely to remain so for some time to come, how does marketing support that all-important social networking?
The clue is in the word 'social.' Whereas most organisations have some form of social presence, for many this is often noise rather than true social marketing. Now is the perfect time to rethink socials and ensure that you have a social strategy that has clear purpose and objectives.
Are you trying to reach new audiences? Are you trying to be thought-provoking? Are you trying to generate a buzz around your organisation? Engagement with social channels has increased significantly during Covid. If you can't physically see your target market, this is a great way for them to see you.
Joining the Dots
The final area that I think is vital that marketers focus on right now is joining the dots and using every type of analytics available to them. We are marketing in unprecedented times; people like me can give you our opinion on what we think is important, but it is only by understanding your audiences and how they are engaging with you that you can truly understand how effective you are being and where the gaps are that you need to address.
I am a long-standing advocate of marketing automation. It is the single tool that allows us to turn the dial in terms of what is possible and how we can integrate all of the elements. By deploying marketing automation, you will be able to see the digital footprint of prospects and customers across all of your activity, build a view of the marketing funnel and better focus activity on moving people through the engagement and cultivation cycles of marketing. Last year we introduced a Marketing Automation Accelerator programme that helps organisations run a managed proof-of-value of marketing automation. If this is something you are interested in, please let me know.
I truly believe that there are positives we should be thinking of during this time. It is easy to put marketing in a self-isolation phase, to blame the pandemic for not being able to move things forward. I am taking another perspective; I think the pandemic is accelerating an inevitable change in the way audiences engage with marketing. It is not a negative; it is a positive catalyst for change.
If any of the points raised have got you thinking, I would be more than happy to have a virtual coffee and brainstorm with you, bounce around some ideas and share what others are doing. You can contact me directly at gary.coville@cremarc.com.