Ekco
How we improved Ekco's lead generation by investing in brand building and impactful creative
Cybersecurity
IT Services
Managed Services Providers
increase in leads from LinkedIn Ads
additional users driven to cornerstone webpages
About Ecko
Ekco is Europe's fastest growing, security-first managed cloud provider.
With a network of security and infrastructure specialists across Europe, they've perfected their approach to supporting secure digital transformation.
Ekco have a presence in the UK, Ireland, and the Netherlands. Cremarc supports all these regions with monthly PPC activity.
The challenge
The market for managed cloud service providers is crowded, but there's a reason why Ekco are Europe's fastest growing security-first managed cloud provider.
Investing in a brand that is distinctive, alongside world class quality service delivery is the key to their success.
Originally, Ekco approached us to run PPC lead-generation activity to continue growing their business at such a rapid rate, but we explained our approach to digital advertising and how we always strive for full-funnel coverage.
Our initial launch was driving to gated content that was extremely valuable to the target market. We achieved good results but not excellent and definitely not what we expected.
We had to adapt. We were focusing on market penetration but expecting BoFu results. The answer? Invest in the brand further.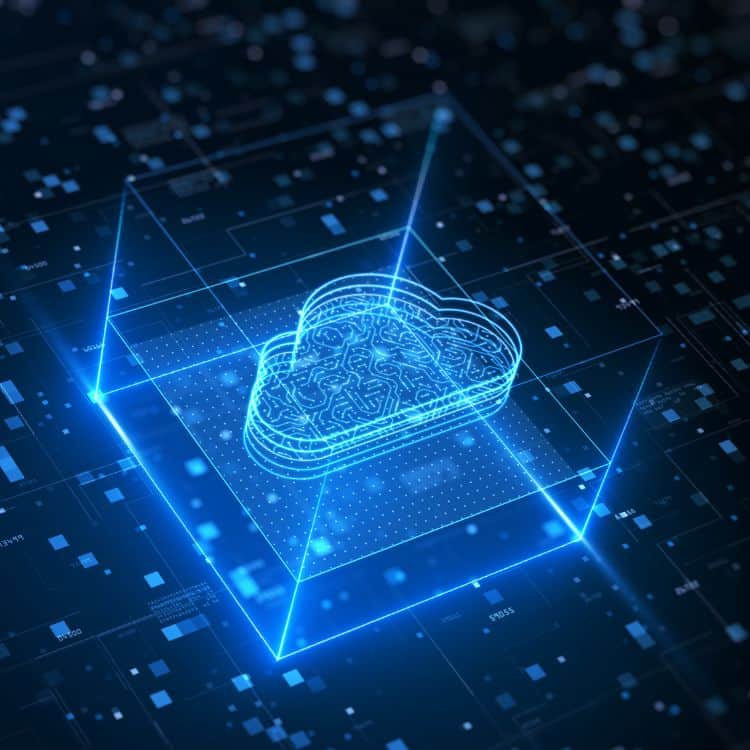 Why Cremarc?
Results were, of course, key for Ekco. But creativity was also near the top of their agenda.
With a relatively flat structure, the whole team at Cremarc collaborate often, and share creative ideas with each other. We run group ideation sessions across many of our clients to ensure that we create the most impactful marketing possible through the help of a fresh pair of eyes.
As an agency, we are strategy-led and data-driven. That's why we stripped our campaign back. We were focusing on the bottom of the funnel, but we reviewed the data, found the gap, and filled it.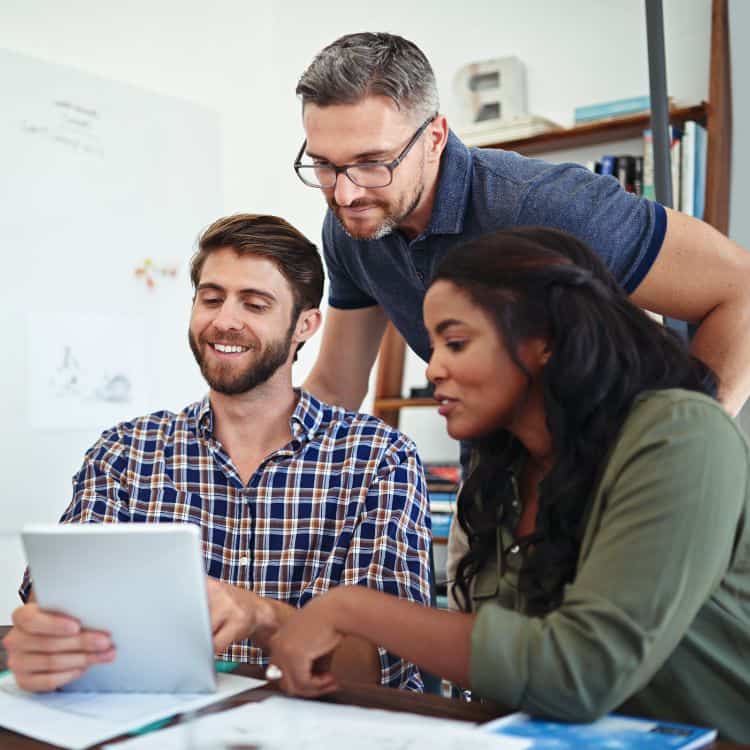 Let the personality shine
Our approach to filling the top of the funnel and driving users down to the consideration section was to let the personality of Ekco shine through.
Ekco get amazing results for their clients, but that's difficult to show without approved case studies. And we all know how difficult it is to get new case studies signed-off.
Ekco are incredibly innovative, but again, without investment in hero content around trends and predictions, that's difficult to show. Side note, we have since invested time and effort into a trend report campaign and it has also helped us to drive more leads!
Ekco have fantastic relationships with their clients, and in fact, their net customer retention rate is over 100% because the clients they have, stay with them and grow with them! Over time, their existing client base grows alongside the acquisition of new clients. This is testament to their quality and service.
We knew we had to focus on the people of Ekco, so we devised this campaign:
There's safety in numbers and we are proud of ours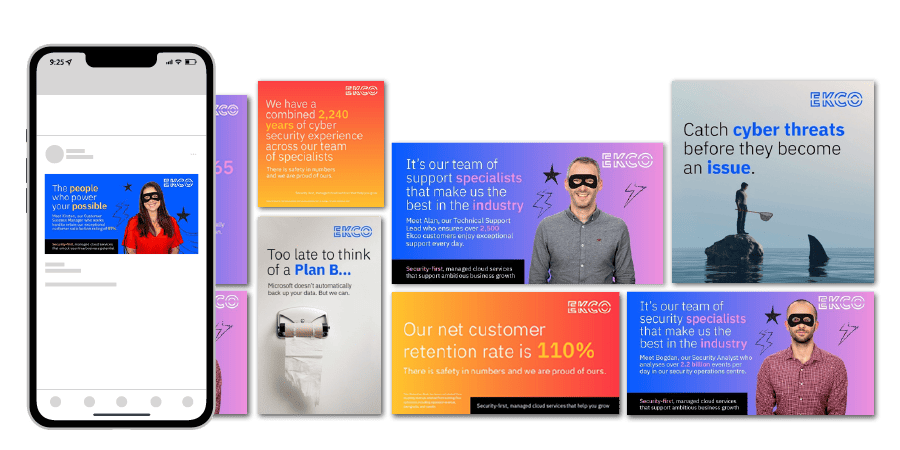 (Photo: A visual representation of the adverts we designed and displayed for Ekco)
We took some incredible statistics that show the power and success of Ekco and partnered them with some of the friendly faces in the Ekco team. This combination not only improved brand fluency from Day One but captured the attention of our generated audiences.
We also ensured that our lead generation ads were aligned with the brand building ads so that we were racking up quality fluent touchpoints every time an Ekco ad was served to a user.
The power of impactful creative
When advertising on paid social, it's vital that your creatives are distinctive. Over a third of the entire global population are on social media – over 900 million on LinkedIn alone – it's safe to say that it's a busy market.
Generally in marketing, it's important to be distinctive, but there is extra emphasis on this when advertising on social media.
We carried out three ideation sessions to nail down our creative ideas for the brand campaign and lead-generation campaigns to ensure that our ads were as impactful as possible.
We stumbled upon so very abstract and out of the box ideas which our creative and design team translated into visuals. We loved them, but as marketers we can't decide if the ad creatives are impactful or not – we need to look at real market data.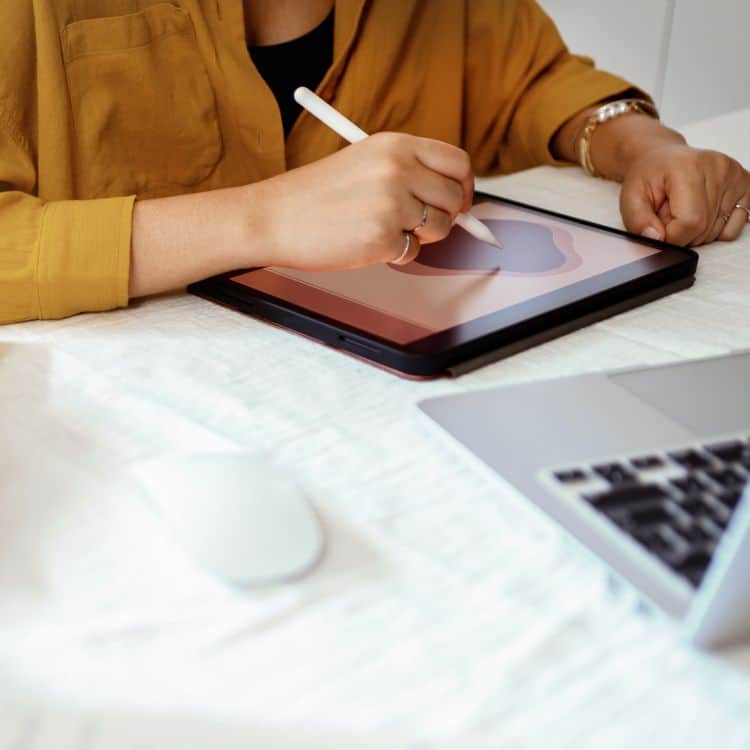 The results speak for themselves
We now generate 150% of the leads we were generating through LinkedIn Ads, and we almost generate the same percentage increase from Google Search Ads. Google Display Ads feed the lead generation ads with in-depth audience data and continue to serve brand ads to users until they convert.
The brand ads have increased the reach of the campaign by 6x and pulled in an additional 2,000 clicks through to the cornerstone webpages. What's amazing about that is the brand ads were designed for mental availability and to be seen but not necessarily engaged with. Our aim for the brand ads was to keep the brand top-of-mind so that the lead-gen ads perform better as they run concurrently. But in fact, we improved the performance of the lead-gen ads and drove additional web traffic directly from the brand ads. A double whammy of success!
This positive new approach, and the subsequent results, confirm the latest research from System1 presenting that brand building advertising is not only more effective in the long-term but also the short-term with a spike in sales activation and leads.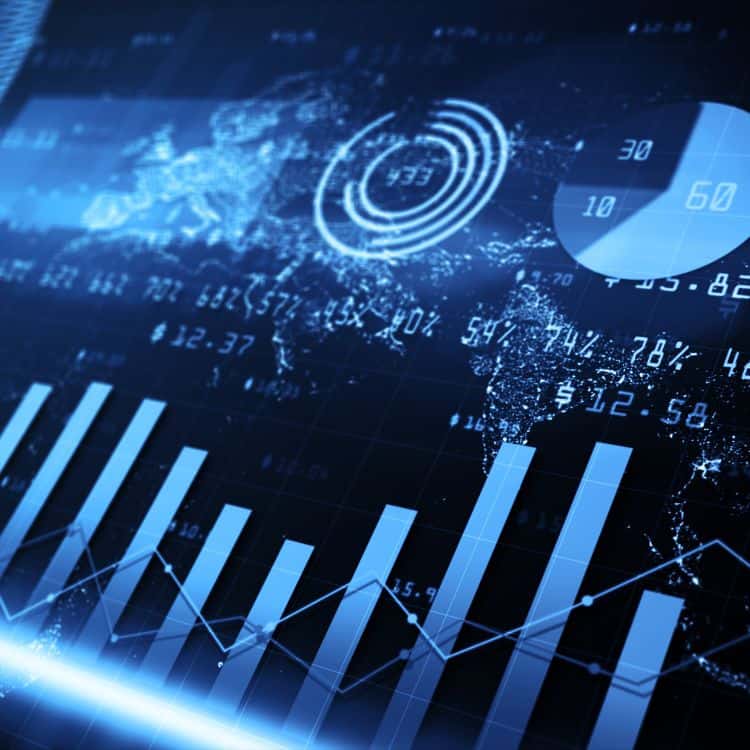 Now it's your turn
If you would like to invest in brand building to unlock the short-term impact of incredible full-funnel PPC marketing, get in touch!
This positive new approach, and the subsequent results, confirm the latest research from System1 presenting that brand building advertising is not only more effective in the long-term but also the short-term with a spike in sales activation and leads.